Concerts in churches: the most beautiful shows to see in Rome
"On stage!": Concerts in churches
Concerts in churches are indeed unique and all-encompassing experiences, combining art, history and religion to create a surprising effect for all visitors. The church is the sacred place that, when hosting a concert, gives music the chance to resonate within the walls, where the notes acquire a crystalline purity and then travel back to the ears of those who hear it. Concerts in churches are incredible opportunities for music experts as well as music lovers.
Concerts in churches: "Do you know any place grander than Rome?"
Rome is truly the perfect setting for concerts in churches. Wherever you look, you can find a church; however, clearly you can't find concerts in all churches. And so, just steps from the Fountain of the Naiads and the Baths of Diocletian your search is over. As you pass along Via Nazionale—one of the most beautiful streets in Rome—you come to the church of St. Paul's Within the Walls. This is the perfect place for an unforgettable evening.
Concerts in churches: St. Paul's Within the Walls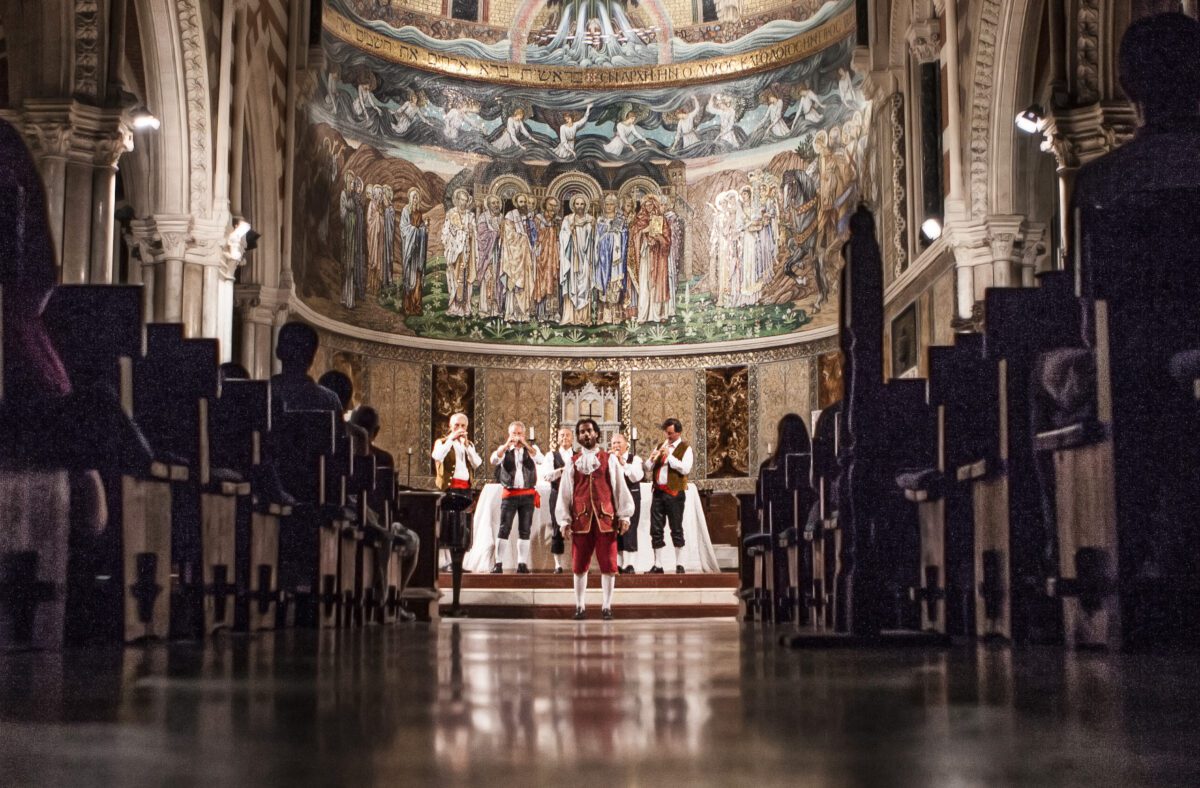 Construction on this church began in 1873 and was completed in 1880. It was the first Episcopal, and therefore non-Catholic, church built after Italian unification. The church of St. Paul's Within the Walls welcomes visitors with its famous Burne-Jones mosaics, declared a national monument by the Italian government, and interesting in that it portrays some saints using the faces of contemporary figures. The church also features mosaics by George Breck and colorful stained-glass windows produced by the English firm Clayton and Bell at the end of the 19th century. And in the evening, the church hosts the classical music concerts of I Virtuosi dell'Opera di Roma: truly shows you cannot miss!
Concerts in churches: the power of music
Of all the concerts in churches that you might find, the concerts offered by I Virtuosi dell'Opera di Roma are the most beautiful shows to see in Rome. And what shows are we talking about? Clearly, those that showcase the excellence of Italian classical music, and that's not all. By choosing the experience of concerts in churches by I Virtuosi, you'll be taking a trip through opera history from the 18th to the 20th century.
– The Three Tenors: a tribute to Pavarotti, Carreras and Domingo.
– La Traviata by Giuseppe Verdi: the story of an impossible love.
– Enchanting Opera Arias: a selection of the most famous and beloved opera arias.
– New Year's Concert: to end the year well and start it off even better.
At the crossroads between music, tradition, and the sacred, concerts in churches uplift the soul of the viewer. When planning your vacation, don't forget to book an evening at the church of St. Paul's Within the Walls to enjoy an extraordinary show.