Romantic anniversary ideas? Going to the opera with your sweetheart!
An idea for a romantic anniversary? Go …
In fact, a trip means letting go of the weight of everyday life and surrendering to the lightness of discovery, relaxation, and the absence of thoughts. The world is just one click away; choose a destination and surprise yourself. It's a romantic anniversary idea, isn't it? "Yes, but it's really hard to choose … What if I disappoint my love?" Don't worry, the journey is, in essence, magical, liberating: what matters is the journey itself, not the destination.
Where to go on a trip: a romantic anniversary idea
This is what Nietzsche wondered in "Human, All Too Human" around 1878 … OK, OK, enough philosophy! Here is a romantic anniversary idea, but above all a concrete destination for your trip: Rome, the "Eternal City." You can stroll through the alleys of the most famous historic center in the world; hold hands as you descend the Trinità dei Monti staircase; eat an authentic Italian gelato in front of the Pantheon; or simply relax, immersed in the beauty of Villa Borghese; finally dinner in a traditional restaurant or, why not, in an elegant starred restaurant. And it's not over yet …
The cherry on top of the cake for your romantic anniversary idea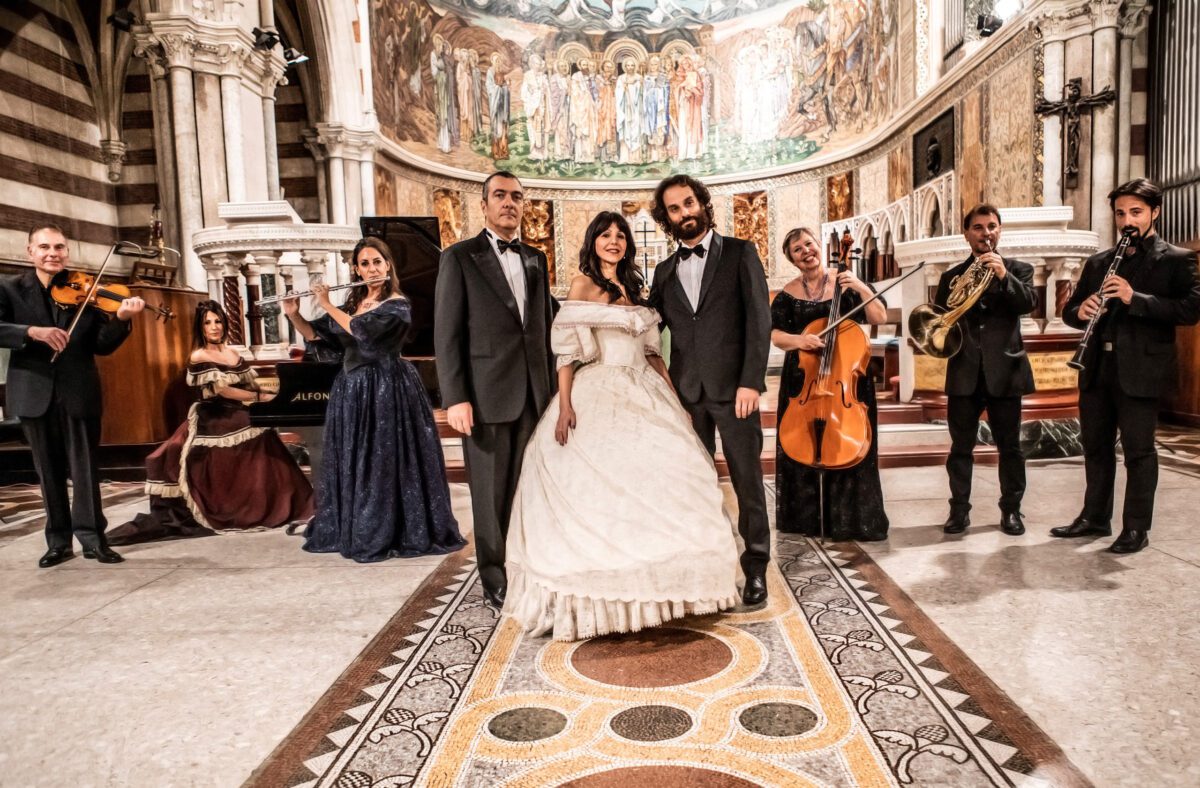 Yes, because the night is long and there is always after dinner to surprise your partner and give them an unforgettable experience. So what to do in Rome after dinner? In one of the main streets of Rome, via Nazionale, you will find the first non-Catholic church, built after the unification of Italy between 1873 and 1880, the Church of St. Paul's Within the Walls, an incredible place where you can admire the famous mosaics of the Pre-Raphaelite painter, Edward Burne-Jones. But what does this church have to do with your romantic birthday idea? Put simply …
A romantic anniversary idea? A night at the opera
Indeed, the Church of St. Paul's Within the Walls is home to the concerts of I Virtuosi dell'opera di Roma, the orchestra conducted by Maestro Adriano Melchiorre and founded in 1998. Opera music surrounds you in a dream setting as your romantic birthday idea becomes reality. You will be immersed in the most famous opera arias, such as "E lucevan le stelle," from Tosca by Giacomo Puccini ("Oh, sweet kisses and languorous caresses") or "Nessun dorma" from act 3 of Puccini's Turandot. What do you say? Do you like the idea? In my opinion, you won't want to go home!
Now all you have to do is make your romantic anniversary idea reality! Start with the plane ticket, then reserve your seat at the concert here. It will be a magical experience!