Where to see La Traviata opera in Rome?
Preliminary remarks on the opera: see La Traviata opera in Rome
Let's start with the genesis of the opera. La Traviata is a libretto from 1853 by Francesco Maria Piave, who was inspired by the Alexandre Dumas fils novel La Dame aux Camélias.  Giuseppe Verdi composed the music, and the opera premiered in March 1853 at the La Fenice theater in Venice, with rather disappointing results. Success was not forthcoming probably due to the subject of the opera, namely courtly love, which was far from the bourgeois moral ideal. Nowadays we can see La Traviata opera in Rome in a less restrictive light and appreciate a pure love story without interference from social influences.
"Let's drink, my love! The love among chalices ": see La Traviata opera in Rome
And indeed it is one of the most beautiful love stories in opera precisely because it transcends social barriers and prejudices, telling us about love as it is. Love rises above everything, it uplifts and unifies, it overcomes and binds together, it erases all kinds of differences (social, gender, conceptual and moral), giving a higher unity. Love cannot be crushed by the hypocrisy of social judgment, because it belongs to a deeper, "more real" reality, capable of penetrating the social fabric, of asserting itself against it; even death cannot stop love. To see La Traviata opera in Rome is therefore "to drink from the joyous chalices", as Giuseppe Verdi suggests, and to celebrate the power of love.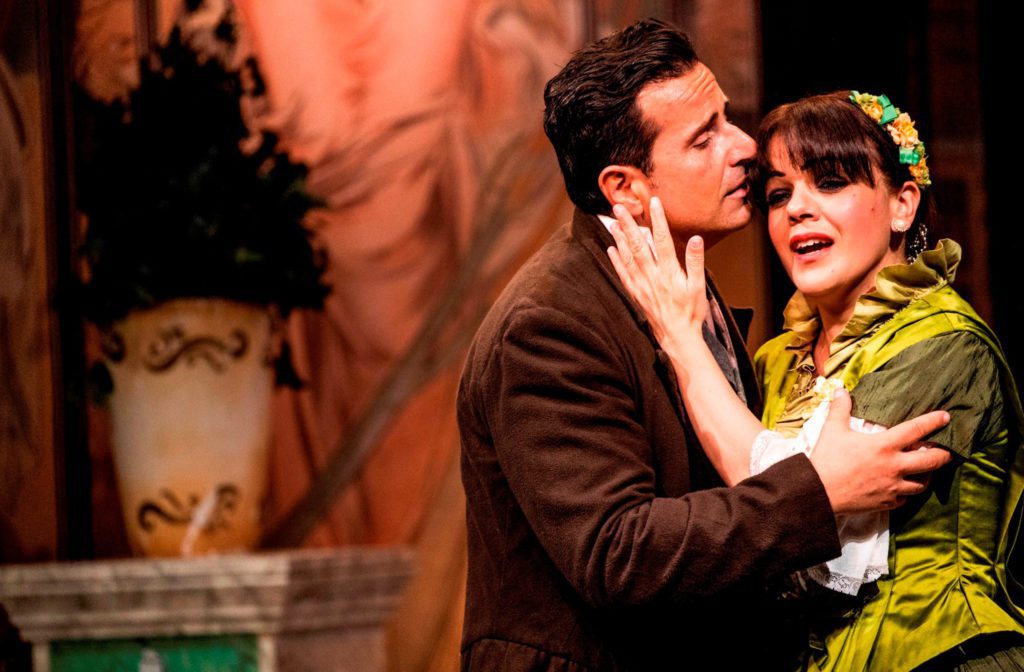 See La Traviata opera in Rome, an incomparable experience
Because, of course, the content is fundamental, but the tool that transmits it, namely the music, is just as important. Who would remember Piave's libretto and Violetta and Alfredo's tragic love story if the extraordinary genius of Giuseppe Verdi had not set them to music? But the music itself must reach its destination, strike the soul of the spectator, letting them appreciate with all their heart the notes that come to life. And so to see La Traviata opera in Rome also means to listen to it. And who can give you an extraordinary listening experience? That's easy: the I Virtuosi dell'opera di Roma orchestra, which was founded in 1998 and whose members are experts in the opera field. Under the direction of conductor Adriano Melchiorre, the orchestra of I Virtuosi will take you through the twists and turns of the love story of Alfredo and Violetta.
A magical place to see La Traviata opera in Rome
After all this, are you curious about where to see La Traviata opera in Rome? Don't forget that you are in the Eternal City, which offers you an unforgettable setting: the church of St. Paul's Within the Walls, a neo-romantic-neo-Gothic building, built at the end of the 19th century. The Episcopal Church of America hosts the concerts of the orchestra of I Virtuosi dell'opera di Roma. Inside you can enjoy high-quality sound that flows throughout the large space of the church and comes back to impress and intoxicate the spectator.
Do you want to come and see La Traviata opera in Rome? What are you waiting for? Book your tickets to see a show you won't soon forget.